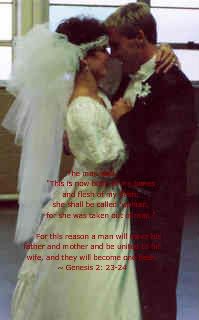 Yes, it's Word Filled Wednesday! It's been a few weeks since my last WFW post!
The man said,
"This is now bone of my bones
and flesh of my flesh;
she shall be called 'woman,
for she was taken out of man."

For this reason a man will leave his father and mother and be united to his wife, and they will become one flesh.

~ Genesis 2:23-24

On September 22 of this year I will celebrate 18 years of marriage with Jim. Richer, poorer, better, worse, sickness, health... God has been there through it all. I am so blessed that this man has stood by me, that we have stuck together - knowing that it takes more than a wedding, but a marriage built on the foundation of the Triune God... Father, Son and Holy Spirit.
For more WFW visit: