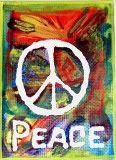 What does the word peace mean to you? Is it a word, a state of mind, where you are...?
Keeping the peace, peace offering, peace brother, peace out, Peace be with you... and also with you! What do you think of when you hear the word peace? What does the "world" say peace is?
I would love to hear your comments about peace! Do you, like me, at times fall into Satan's trap desiring the peace the world gives? Those Calgon take me away moments?
I have a note scribbled on a sheet of paper that hangs over my desk:
Peace has everything to do with the authority of God in our lives nothing to do with circumstance...
Job 22:21 says: Submit to God and be at peace with him; in this way prosperity will come to you.
Father, you alone are the only source of peace that can fulfill this anxious heart. I thank you for being the authortiy and author of my life. I thank You for the peace that surpasses all human understanding. I thank You that in a world that promises peace in things... that I can find peace in You. Just as You are not of this world - neither am I. You keep Your promises... You will look upon me with favor and give me peace! In the awesome name of Jesus - Amen!